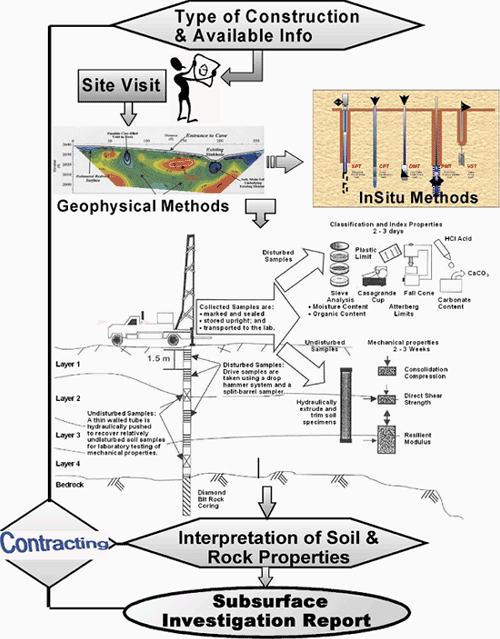 Geotechnical investigations are undertaken by a Geotechnical Engineers or Engineering Geologist to obtain information on the physical and mechanical properties of soils and rocks within a site to design shallow and piled foundations for proposed structures, fill and cut earthworks and for repair of distress to earthworks and structures caused by subsurface conditions.

This type of fieldworks, including borehole drilling, in-situ testing, soil/rock sampling, test pitting, etc, are called a site investigation. Additionally, geotechnical investigations are also used to measure the thermal resistivity of soils or backfill materials required for underground transmission lines, oil and gas pipelines, radioactive waste disposal, and solar thermal storage facilities.

A geotechnical investigation will include surface exploration and subsurface exploration of a site. Sometimes, geophysical methods are used to obtain data about sites. Subsurface exploration usually involves soil sampling and laboratory tests of the soil samples retrieved.

Surface exploration can include geologic mapping, geophysical methods, and photogrammetry, or it can be as simple as a geotechnical professional walking around on the site to observe the physical conditions at the site.

To obtain information about the soil conditions below the surface, some form of subsurface exploration is required. Methods of observing the soils below the surface, obtaining samples, and determining physical properties of the soils and rocks include test pits, trenching (particularly for locating faults and slide planes), boring, and in situ tests.

ESWNMAN Pty Ltd has capacity to undertake the geotechnical investigation as follows:


* Drilling 
Augering using V-bit and TC-bit, rock coring using NLMC technique, Hand auger

* Soil sampling
Disturbed and undisturbed samples, 20kg bulk samples

* In-situ tests
Standard Penetration Tests (SPT) during drilling, Dynamic Cone Penetrometer Test (DCP)
Cone Penetration Test (CPT), Falling Head or Constent Head Permeability Test

* Laboratory tests
Tests on soil properties: Moisture content, density, particle size distribution, Atterberg Limits, etc;
Tests on rock properties: Unconfined Compressive Strength (UCS), Point Load Index Test, etc;
Chemical tests on soils or water: soil aggressivity suite (pH, Sulfate, Chloride),
Emerson test on potential dispersive soils.

* Geophysical exploration
Seismic reflection survey, etc.